Construction & Installation
Like our customers, Michels Power, Inc. believes safe, reliable construction and maintenance is essential to our nation's energy and communication grid. That's why we have perfected an array of methods to ensure the delivery of critical services.
Discover Michels Power's solutions.
Transmission & Distribution
Michels Power uses specialized equipment and trained crews to build and maintain power transmission and distribution lines in all terrain and conditions. Depending on project needs and customer initiatives, we are able to self-perform all aspects of work or collaborate with subcontractors that share our vision and values. 
Michels Power is a full-service provider of construction solutions for power transmission and distribution networks for traditionally sourced or renewable energy. Our services include new construction, relocations, upgrades and rebuilds. Our crews focus on safety, quality and communication, ensuring efficiency in all conditions. 
Substations & Inside Wiring
Michels Power has delivered hundreds of stations across the country, from turnkey greenfield installations to complex, outage-driven brownfield rebuilds.
Our inside wiring expertise includes oil and gas facilities and heavy industrial projects and commercial. Our crews are able to get quickly acclimated to project-specific tasks and to develop long-standing relationships with customers.
Foundations
Michels Power's dedicated crews support our customers by building foundations for transmission and substation projects from coast to coast. We work directly with energy companies and as a subcontractor to general contractors.
Our crews are skilled at building drilled shafts, installing direct embeds, rock trenching, and developing other solutions to challenging ground and logistical situations. Our equipment fleet includes low-clearance rigs to allow crews to work safely under existing lines.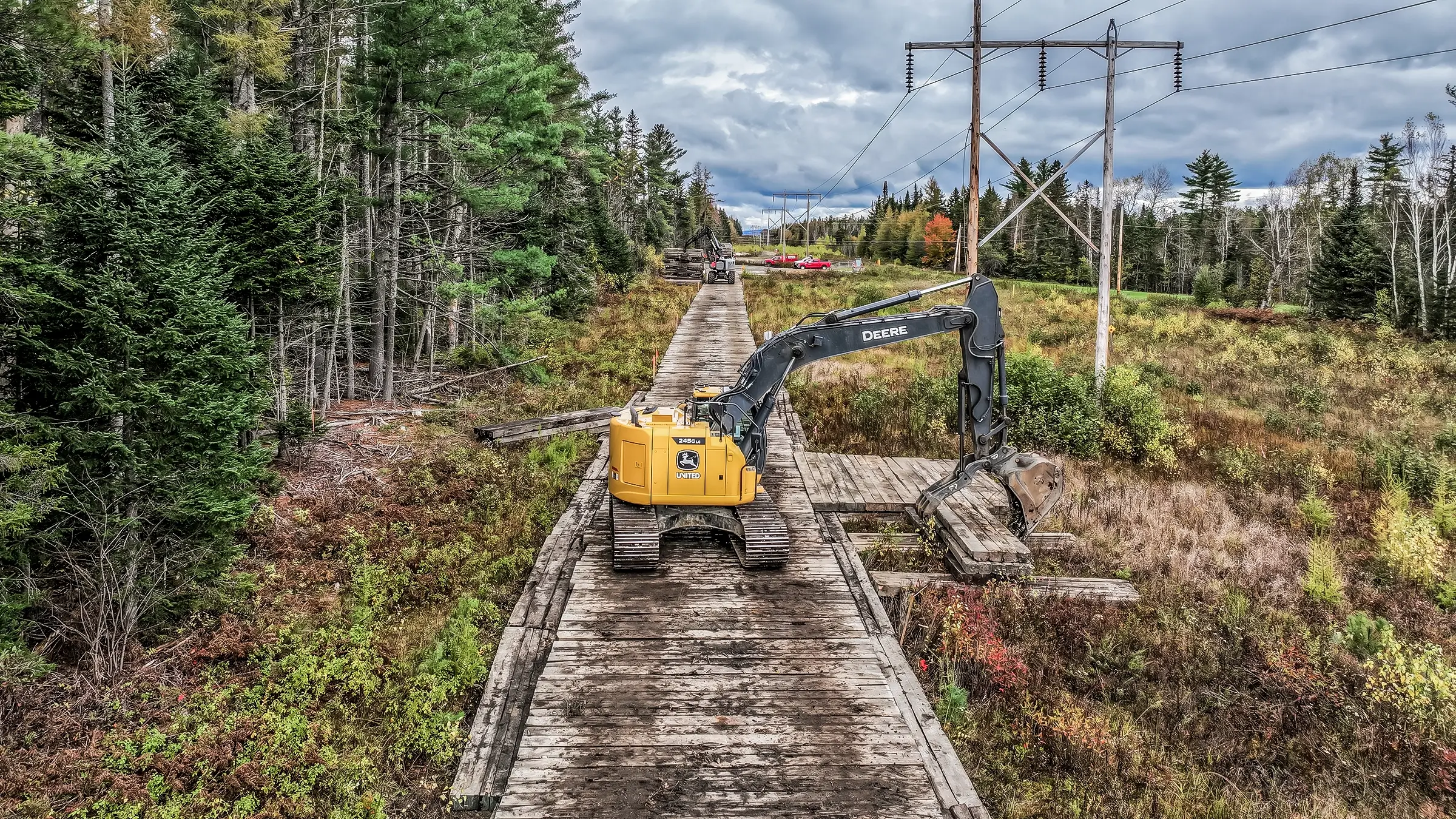 Access Roads & Work Pads
Michels Power builds temporary access roads and work pads to create safe, environmentally sound jobsites for electrical transmission construction. We have the people, equipment and experience to perform the civil work needed to build roads and work areas capable of supporting equipment mobilization and construction functions in undeveloped or unimproved environments.
Minimal Environmental Impact
Our site-access construction services are resistant to wind and water erosion, have minimal environmental impact, and adhere to Stormwater Pollution Prevention Plan (SWPPP) sediment and erosion control requirements. Once the work is complete, we remove the temporary modifications to return to property to pre-construction conditions.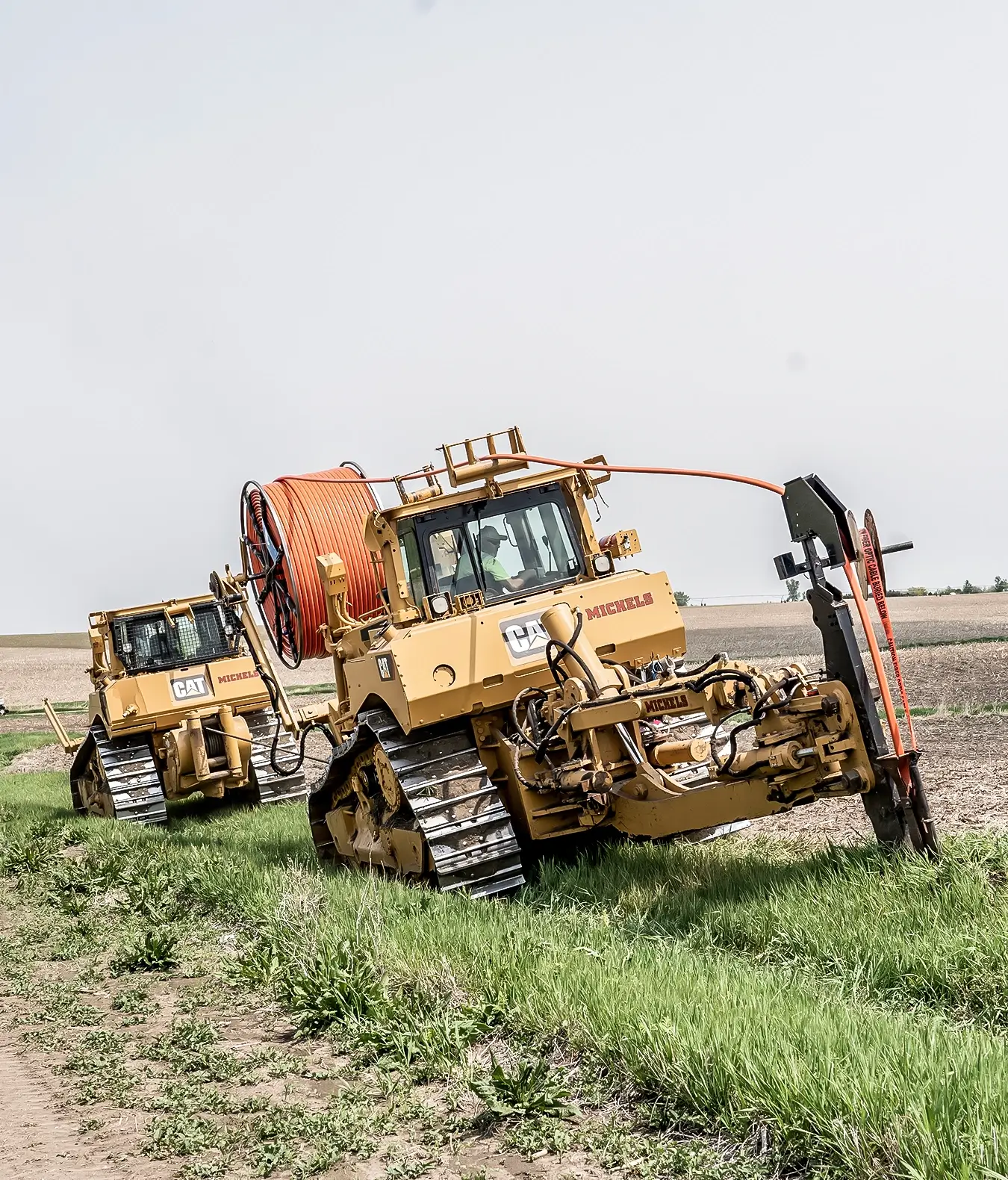 Underground Line & Cable
To harden systems or for aesthetic reasons, Michels Power plans, builds new underground lines, and converts overhead networks in residential, business, metropolitan and rural settings. Our crews have the experience and equipment to either directly bury or install conduit and ductbanks for solid and stranded conductors and copper, fiber optic and coaxial cable to support power distribution, power transmission, renewables and communications systems.
Depending on the situation and ground conditions, Michels Power uses a variety of techniques and equipment to install underground line and cable in the most efficient way.
Our techniques include:
trenching
on-rail and conventional plowing
cable pulling
directional drilling
fiber blowing
Rail Plowing
Rail plowing is a quick and effective way to install cable and conduit along rail rights-of-way. Michels Power designs and fabricates rail-mounted plows to facilitate the installation or upgrading of fiber optic and signal wire. We use our ingenuity and experience to modify our rail equipment to bury more than 2 dozen conduits simultaneously. We use an on-rail ballast clean-up equipment to quickly return rail lines to active use.
Encouraging Future Generations
Michels Power supports the future of our industry through our involvement in and support of training programs. We use the Wisconsin Energy Workforce Consortium Learning Lab to introduce kids to career opportunities in line work. We are actively involved in apprenticeship training programs to prepare more people for our challenging, satisfying work.
Renewable Energy
Michels Power supports renewable energy initiatives by building the infrastructure necessary to convey from generation point to stations to end users or to store captured power until it is needed. Our project managers and crews incorporate safety, efficiency and quality into everything we do. 
Michels Power installs overhead and underground medium-voltage collection systems, overhead and underground transmission lines, substations, switchyards, interconnects and battery storage for wind and solar.
Building structures
Building a transmission line
Power Overview
Drone line replacement
Contact Us
Thank you for taking time to learn more about who we are and what we do. If you need additional information or are in need of a solution not addressed on these pages, please submit a message with your contact information.