Repair & Maintenance
Like our customers, Michels Trenchless, Inc. believes safe, unobtrusive underground construction and rehabilitation is essential to our nation's infrastructure. That's why we have perfected an array of trenchless methods to build and rehabilitate pipelines and utilities in places where open-trench installations would not be feasible.
Discover Michels Trenchless new installation and pipeline rehabilitation solutions.
Cured-In-Place Pipe (CIPP)
Once only available for rehabilitating sanitary and storm sewer mains, laterals, and culvert pipes, Michels Trenchless' Cured-in-place pipe (CIPP) relining process is also effective for use in pressure, force main, and potable water pipes. 
Liners are inserted into the pipe through a utility manhole and installed with air, water or pulleys. Depending on the liner type, location and size, either water, steam, or ultraviolet light is used for curing. 
UV CIPP applications for
sewers, mains, pressure & industrial pipes
Saving Time, Resources with UV CIPP
Michels Trenchless used UV CIPP to repair 43,984' of 18" to 24" interceptor lines and 141 maintenance holes in Guam.
Spray-In-Place Pipe (SIPP)
Spray-in-place pipe (SIPP) rehabilitation is effective for many situations, including pipes with irregular shapes and bends. Depending on material, the uses and cured properties of SIPP application are different. In all cases, Michels Trenchless crews mix material onsite and centrifugally cast it, mechanically or by hand, inside the pipe to a designed thickness. 
We use fiber-reinforced geopolymer mortar for rehabilitating large-diameter sewer mains, culverts, and other host pipes made from brick, concrete, or corrugated metal. The fully structural solution is suitable for pipes in diameters of 30 inches to more than 10 feet. 
Cement mortar and NSF-61 approved epoxy restore hydraulic capacity and water quality for potable and raw water pipes. Both non-structural materials protect against internal corrosion and tuberculation. Cement mortar can be used on pipes with a minimum diameter of 3 inches. Epoxies are best for concrete, iron, and asbestos pipes at least 4 inches in diameter.
Fiber-reinforced geopolymer for pipe diameters of
6 inches to over 9 feet
Epoxies are best for concrete, iron, and asbestos pipes
At least 4 inches
Cement mortar for pipe diameters of
at least 3 inches
Sliplining
Sliplining is a long-standing and fully structural way to rehabilitate sanitary and storm sewer mains, laterals and culvert pipes by creating a pipe within a pipe. With sliplining, Michels Trenchless pushes or pulls a new carrier pipe inside an existing, deteriorating pipe. Then the annular space is grouted and the ends are sealed. This method is as versatile as it is dependable: it can be used on pipes as small as 8 inches in diameter up to more than 10 feet.
Sewer Inspection and Documentation
Regularly scheduled closed-circuit TV (CCTV) inspections are part of everyday sewer system maintenance. 
Michels Trenchless crews are trained to use remotely controlled CCTV vehicles to perform a variety of functions. Services include: time- and location-stamped recordings of a sewer system to document condition over time; sewer locations from above ground; using GIS systems and sonde devices to create uploadable spatial maps; launching lateral cameras from within a sewer main to avoid disturbing residents.
Sewer Cleaning
Routine cleaning is an effective way to keep a sanitary or storm sewer system working efficiently. Michels Trenchless crews scour pipes with high-pressure water to loosen debris and a powerful vacuum to remove the debris. Sewer cleaning is an effective way to eliminate blockages and restore flow capacity. 
Michels Trenchless' fleet of wastewater-recycling sewer cleaning trucks reduce the environmental impact and treatment plant costs by reusing water introduced to the system during the cleaning process.  
Chemical Grouting
Michels Trenchless reduces infiltration into sewer mains, service laterals and utility manholes by injecting chemical grout into the soil outside structures and pipes. Remotely controlled equipment works inside the pipe to isolate the problem area, inject grout, stabilize soil, and create an impermeable seal.  
Trenchless Rehabilitation
Using UV Light to cure liners
Large Diameter Rehabilitation
Trenchless Solutions Overview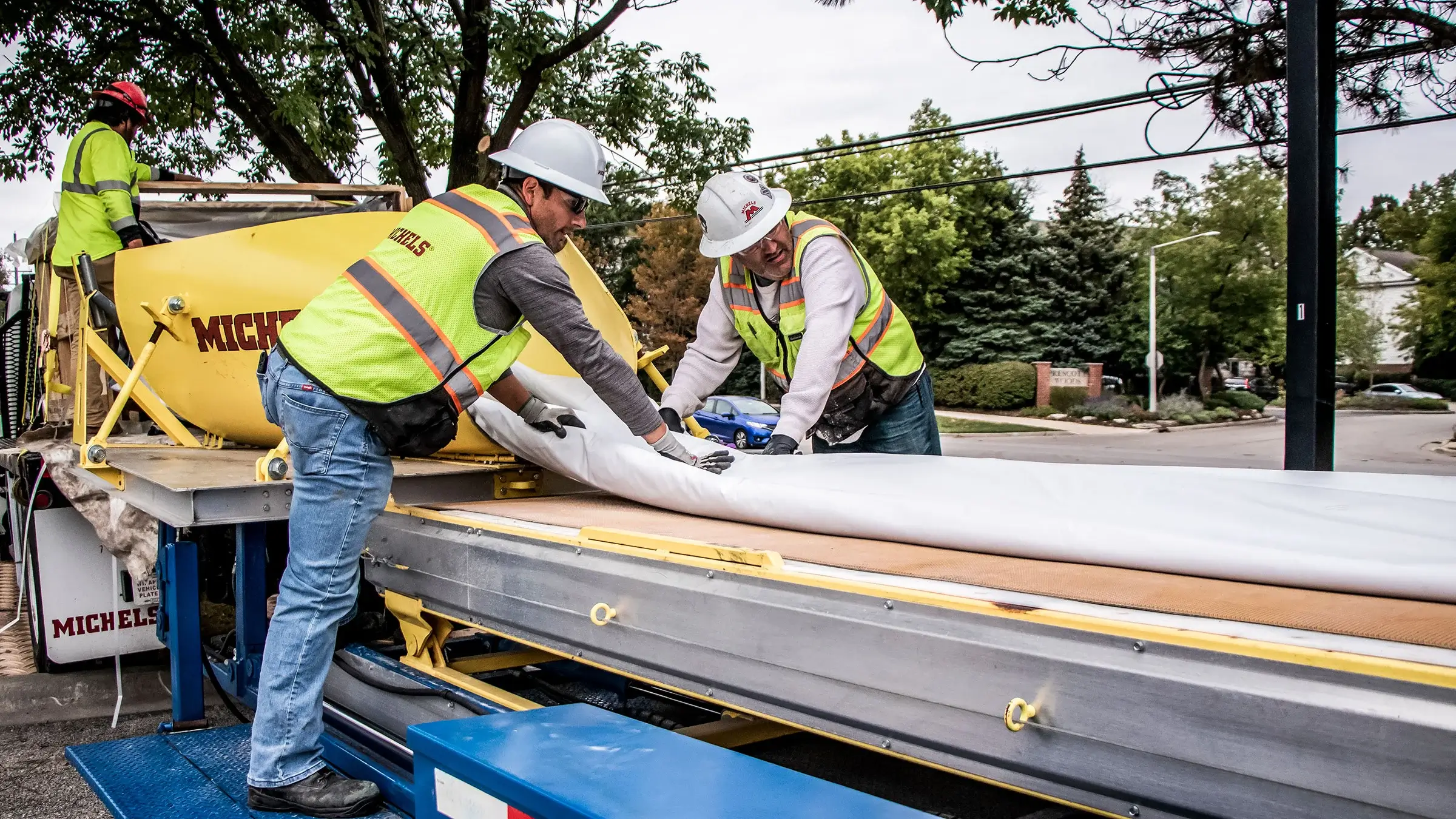 Contact Us
Thank you for taking time to learn more about who we are and what we do. If you need additional information or are in need of a solution not addressed on these pages, please submit a message with your contact information.